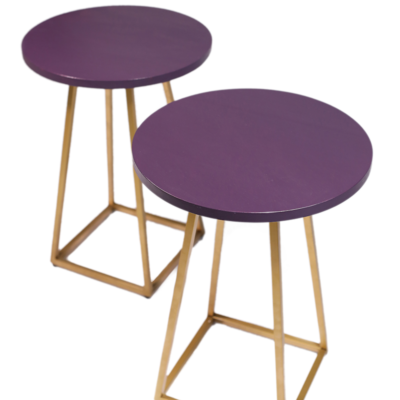 `Royal Purple` Side Tables (set of 2)
₹8,900.00
Free delivery Currently delivering only in NCR areas, please contact us if outside NCR before purchase
'Royal Purple' Side tables are just the perfect combination of the royal color purple and gold legs. This color needs no more embellishment.
Product Specfication:-
Material: Wood, Metal and Paint
Size : 16 x 16 x 22.5inches
Instructions:-
Pricing: All prices include GST. Delivery charges are extra and varies per location based on vendor charges.
Care instructions: The product has been hand painted with a lot of love and care. Please treat it with the same. A protective topcoat has been applied on the painted surface. Clean dust daily with a soft dry cloth. Once a week, a soft damp cloth can be used to wipe down the product. For indoor use only.
Special Note: This is a hand painted product and hence imperfections may occur. Please cherish it. Colors are represented quite accurately but slight variations may occur