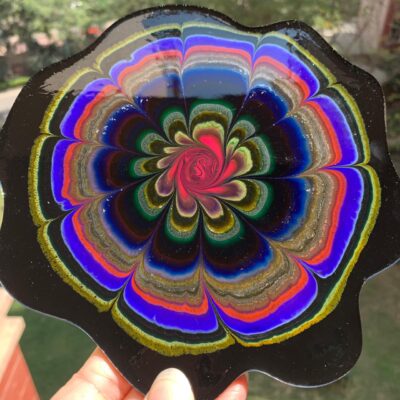 'Gulab' Resin large Coaster/tray
₹800.00
Shipping/delivery included
This unique organic shaped coaster/tray is made of epoxy resin in multicolor with a black backdrop. It's elegant, glamorous and gives a pop of color to any interiors – a perfect gift item. Call us for a set!
Product Specfication:-
Material: Epoxy Resin
Size : 8 inch diameter approx
Instructions:-
Pricing: All prices include GST. Delivery charges are extra and varies per location based on vendor charges.
Care instructions: The product has been hand created with a lot of love and care. Please treat it with the same. A protective topcoat has been applied on the painted surface. Clean dust daily with a soft dry cloth. Once a week, a soft damp cloth can be used to wipe down the product. For indoor use only.
Special Note: This is a hand created product and hence imperfections may occur. Please cherish it. Colors are represented quite accurately but slight variations may occur