Sold Out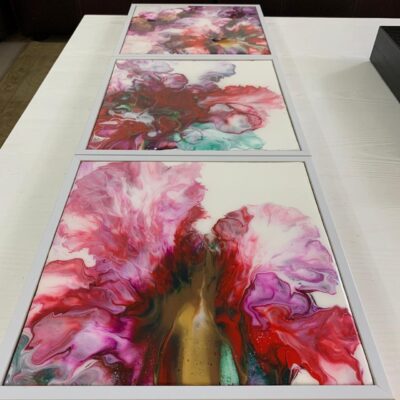 'Angel' Abstract Paintings on Canvas Board with Resin Finish (set of 3)
₹14,500.00
Shipping/delivery included
Out of stock
This acrylic painting is an abstract with various shades of reds, purple, green and gold. It's beautifully framed in a white frame so that the focus is on the art and this can be hung both ways. It's a modern statement piece that will brighten your interiors particularly as it has a epoxy resin finish which gives an unbelievable gloss!
Product Specfication:-
Material: Acrylic Paint, canvas board and epoxy resin
Size : 13 x 13 inches (each)
Instructions:-
Care instructions: The product has been hand painted with a lot of love and care. Please treat it with the same. 2-3 coats of art resin has been applied on the painted surface for protection and shine. Clean dust daily with a soft dry cloth.
Special Note: This is a hand painted product and hence imperfections may occur. Please cherish it. Colors are represented quite accurately but slight variations may occur